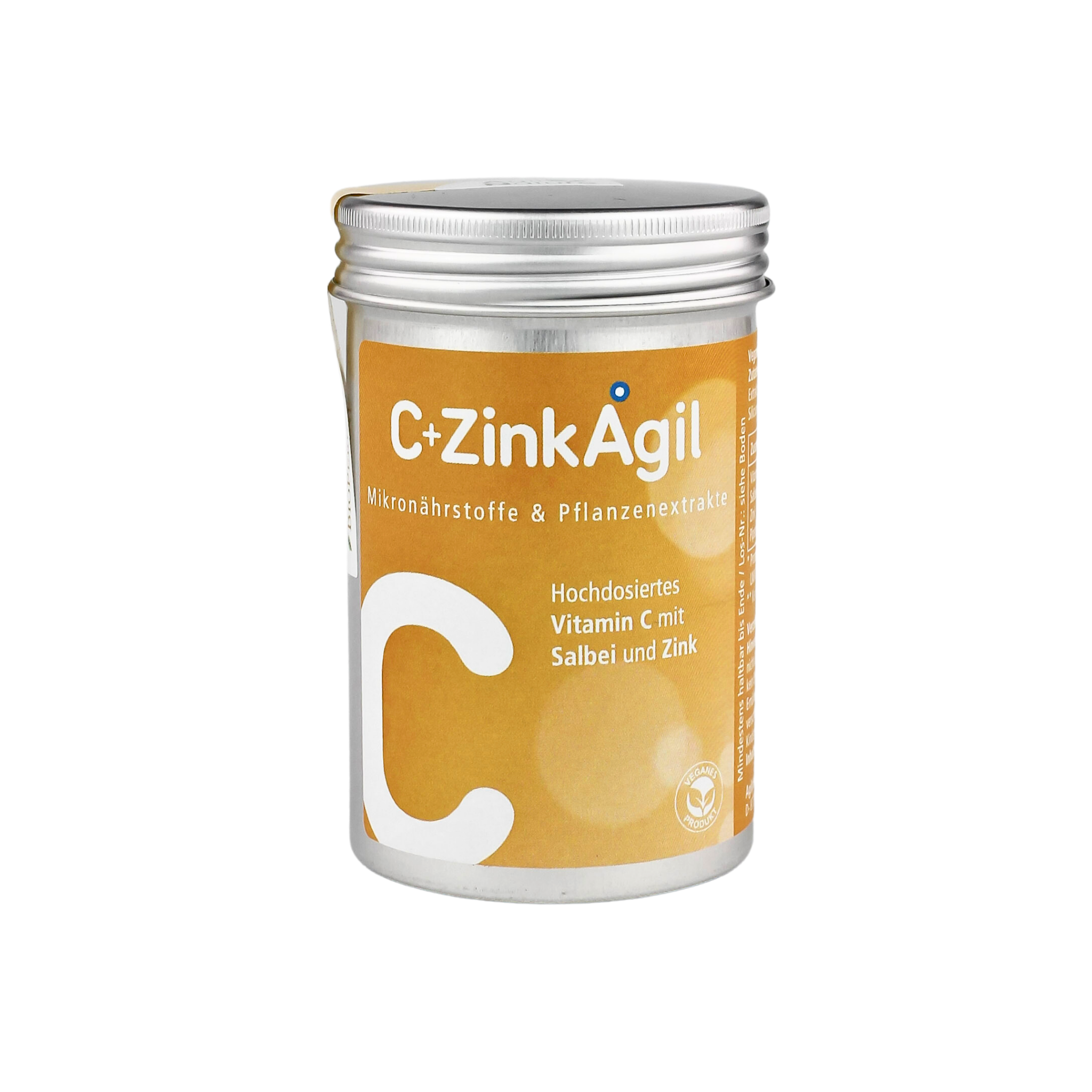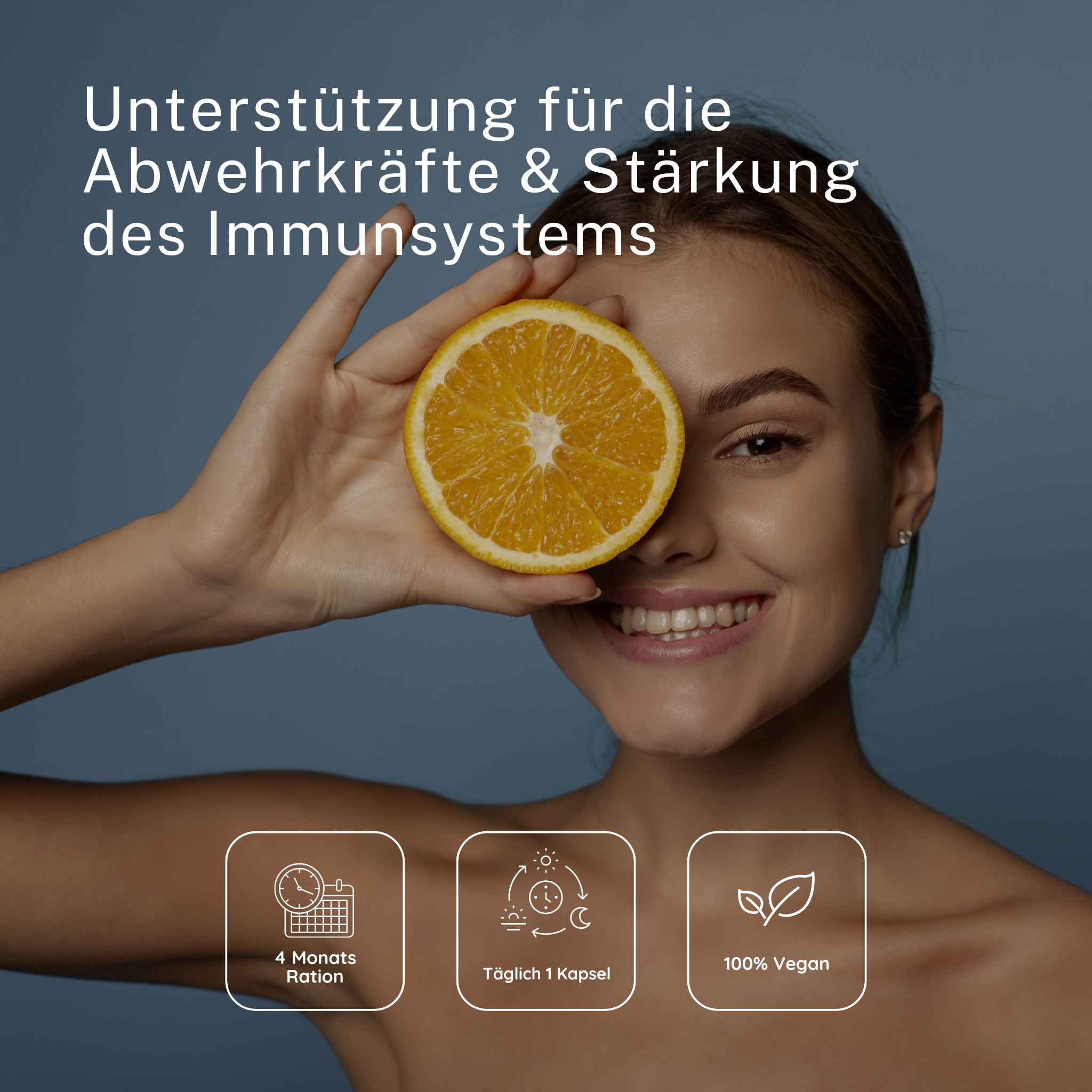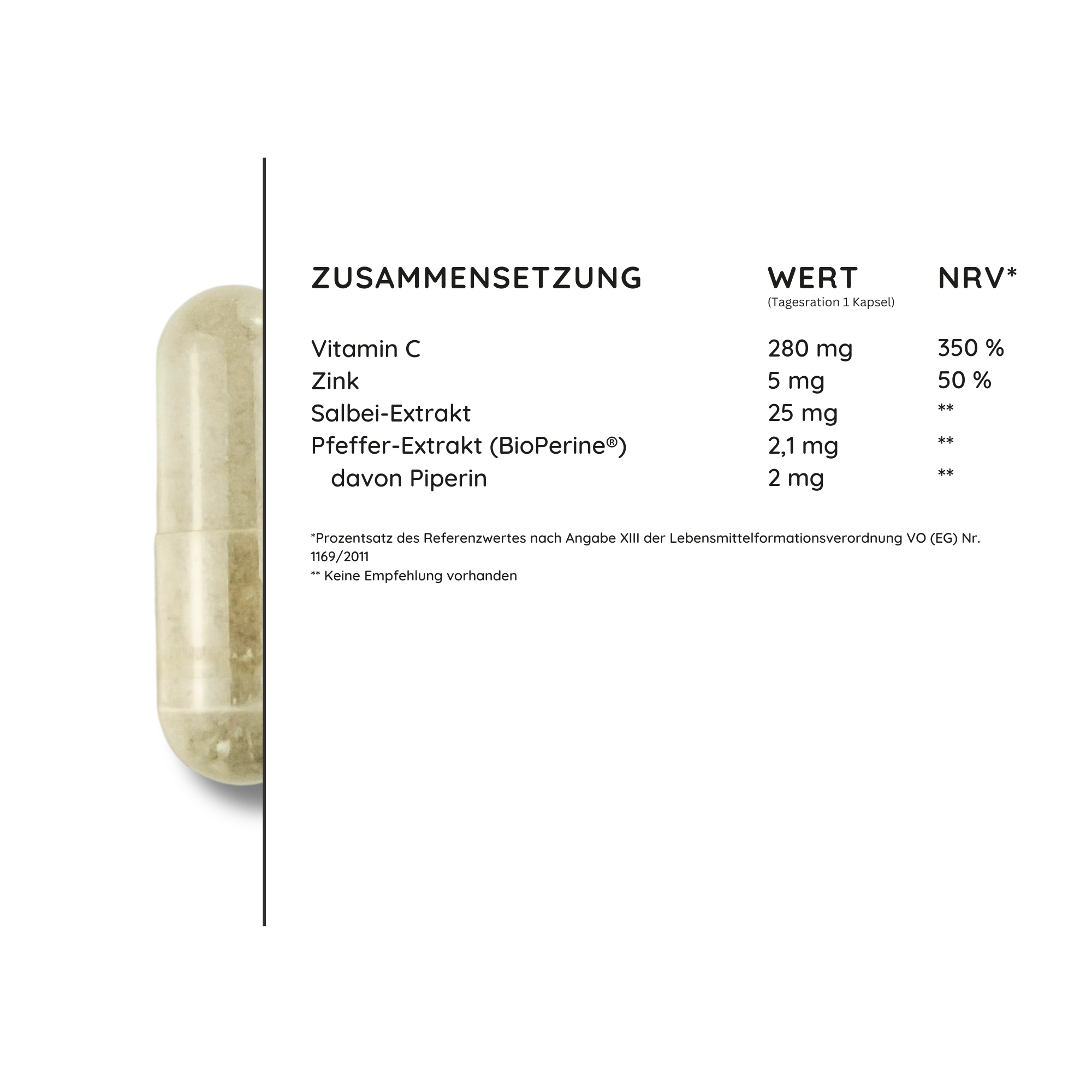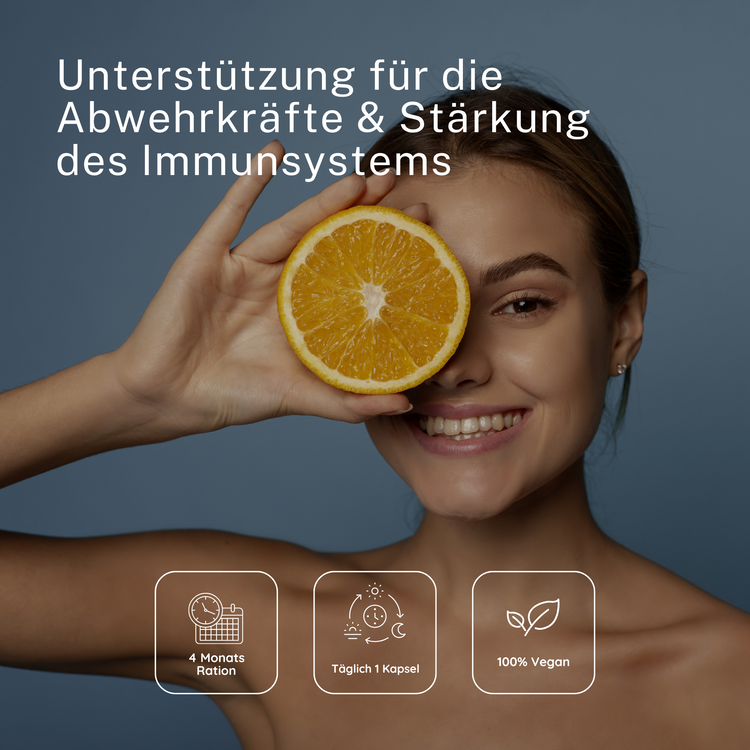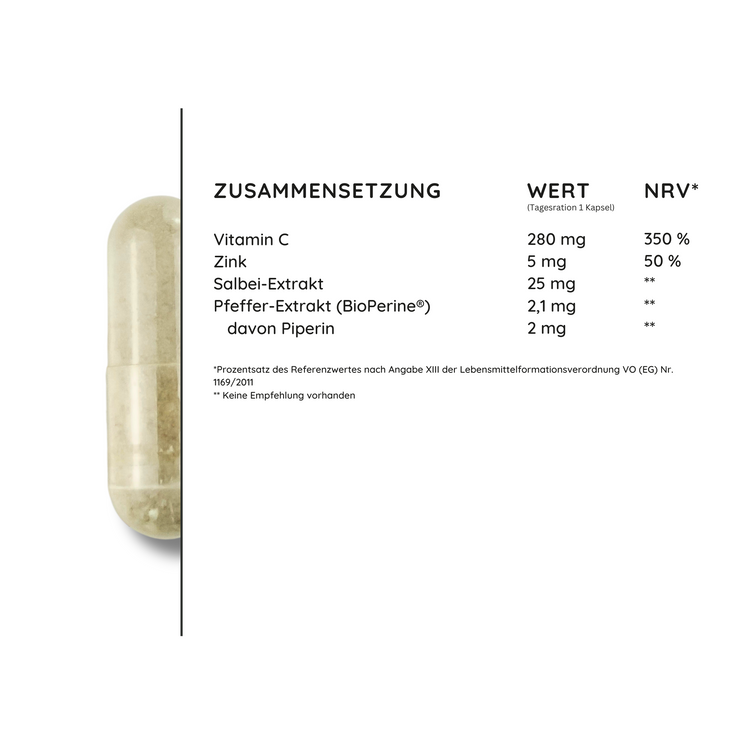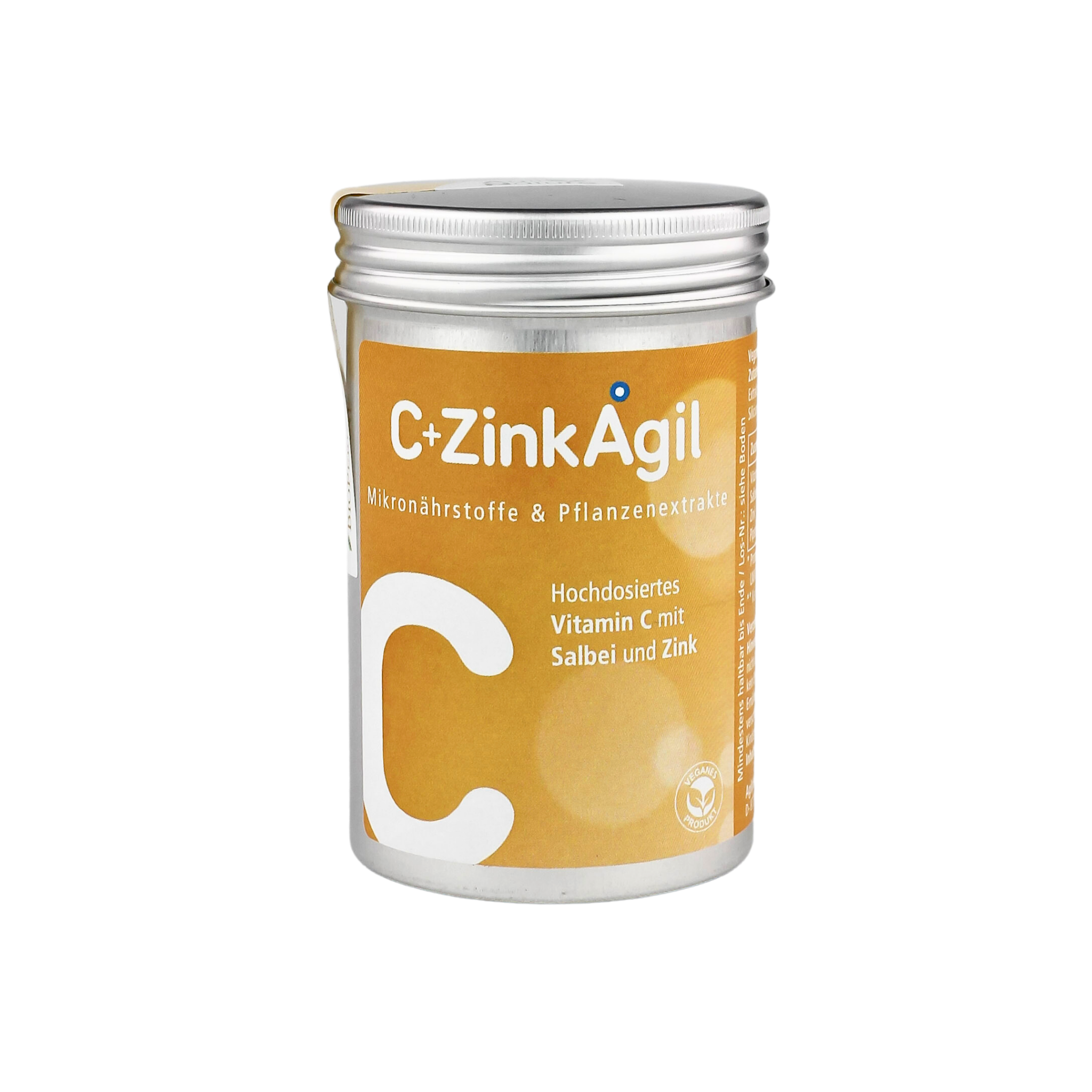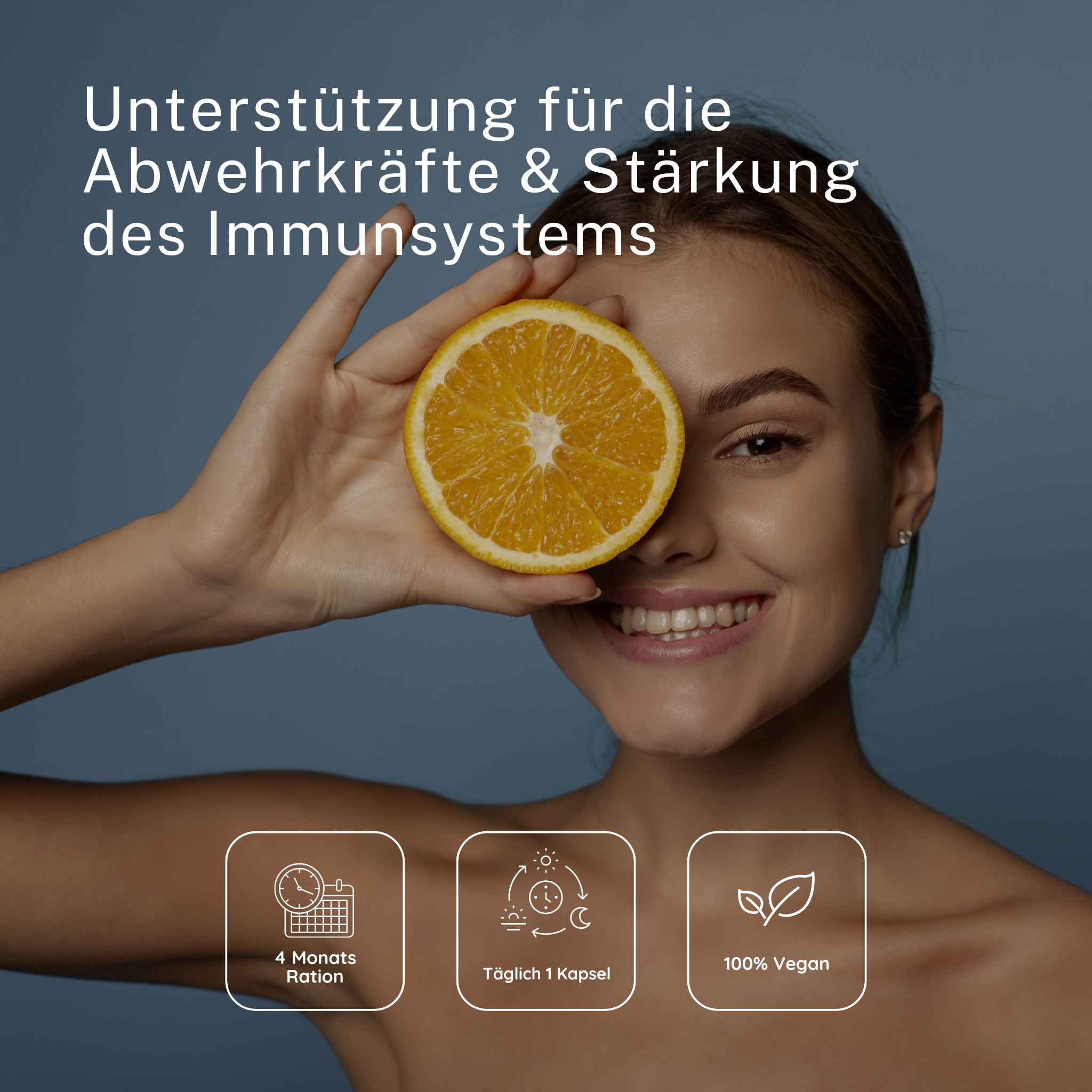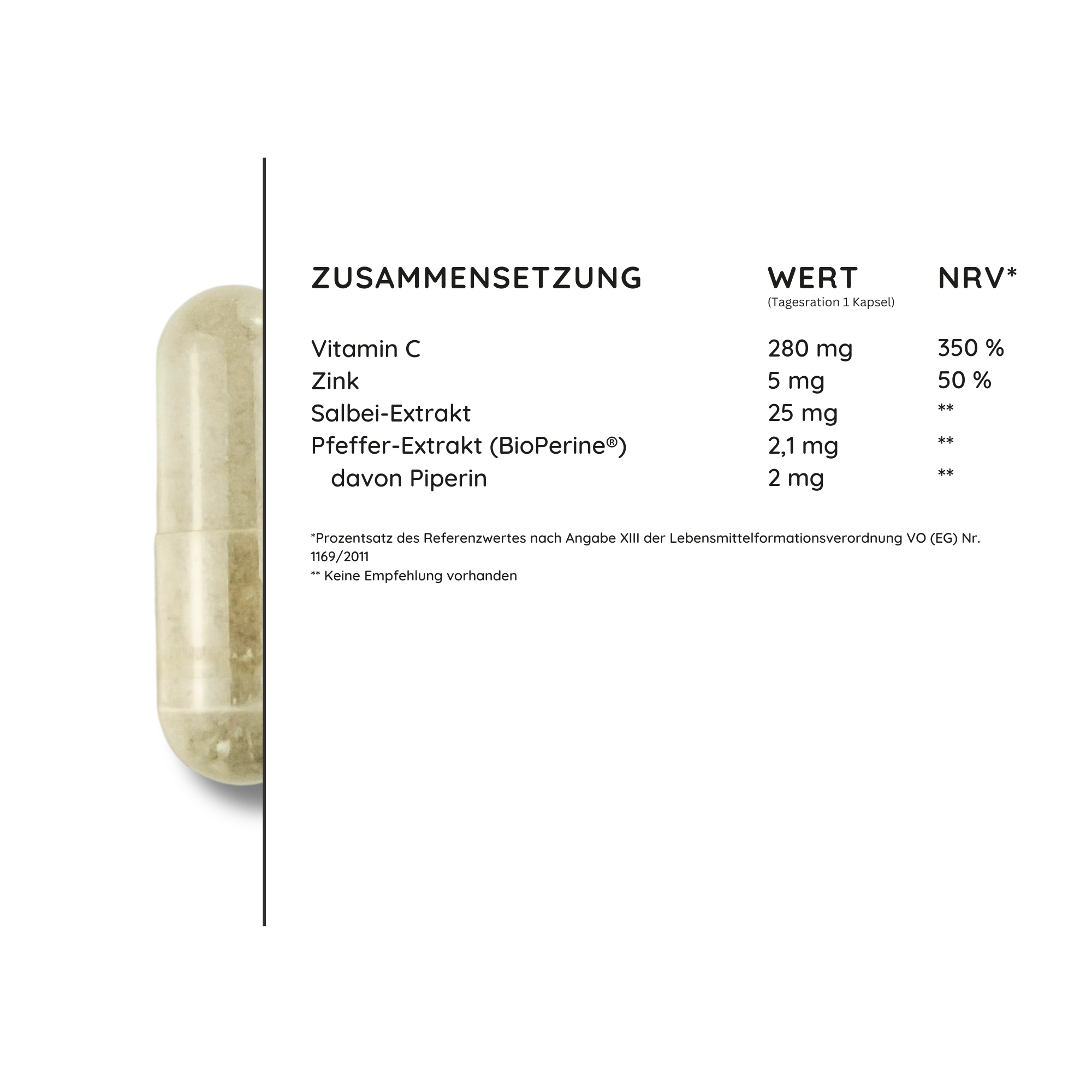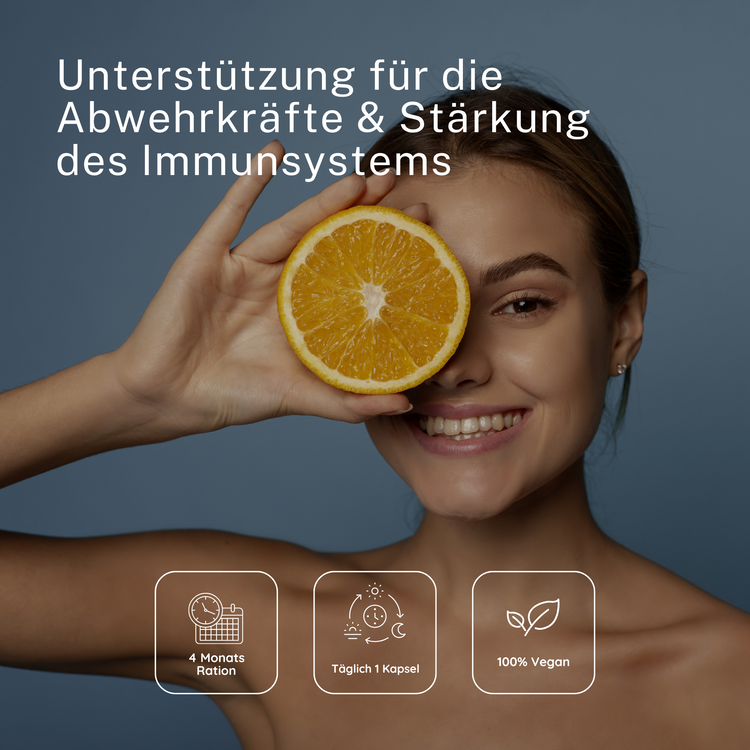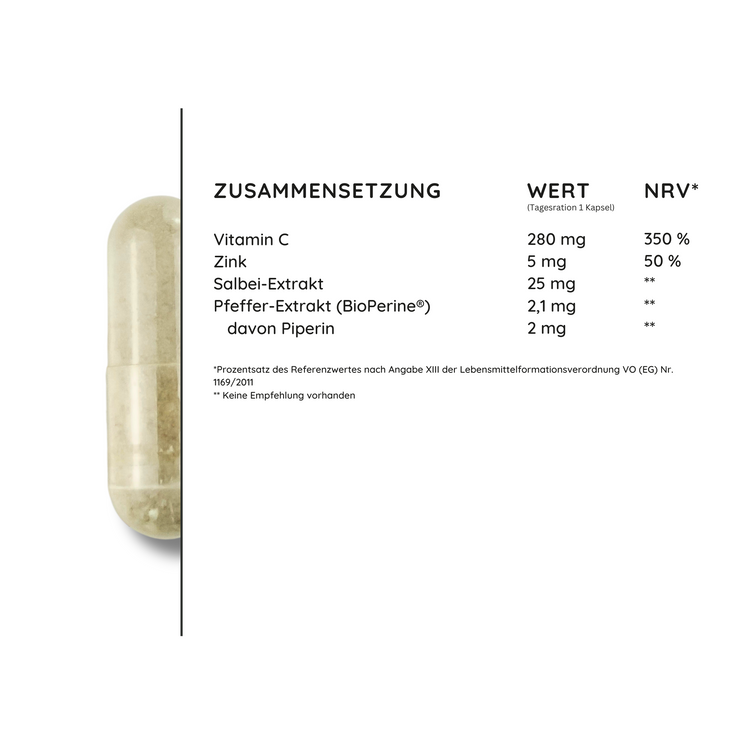 Vitamine & Nahrungsergänzungsmittel
by

AgilNature®
C+ZinkAgil
Deine natürliche Stärkung des Immunsystems
Sale price

€24,95

Regular price

Unit price

€396,03

per

kg
Strengthening of the immune system
Contents: 120 capsules - €0.21 per capsule | 4 month ration
Deutschland: Sofort versandfertig und nach 3 - 5 Werktagen bei dir zu Hause. Außerdem gibt es kostenlosen Versand ab einem Einkaufswert von 49 €.
Europe: Immediately ready for dispatch and after 10 - 15 working days at your home. There is also free shipping for purchases over 99 €.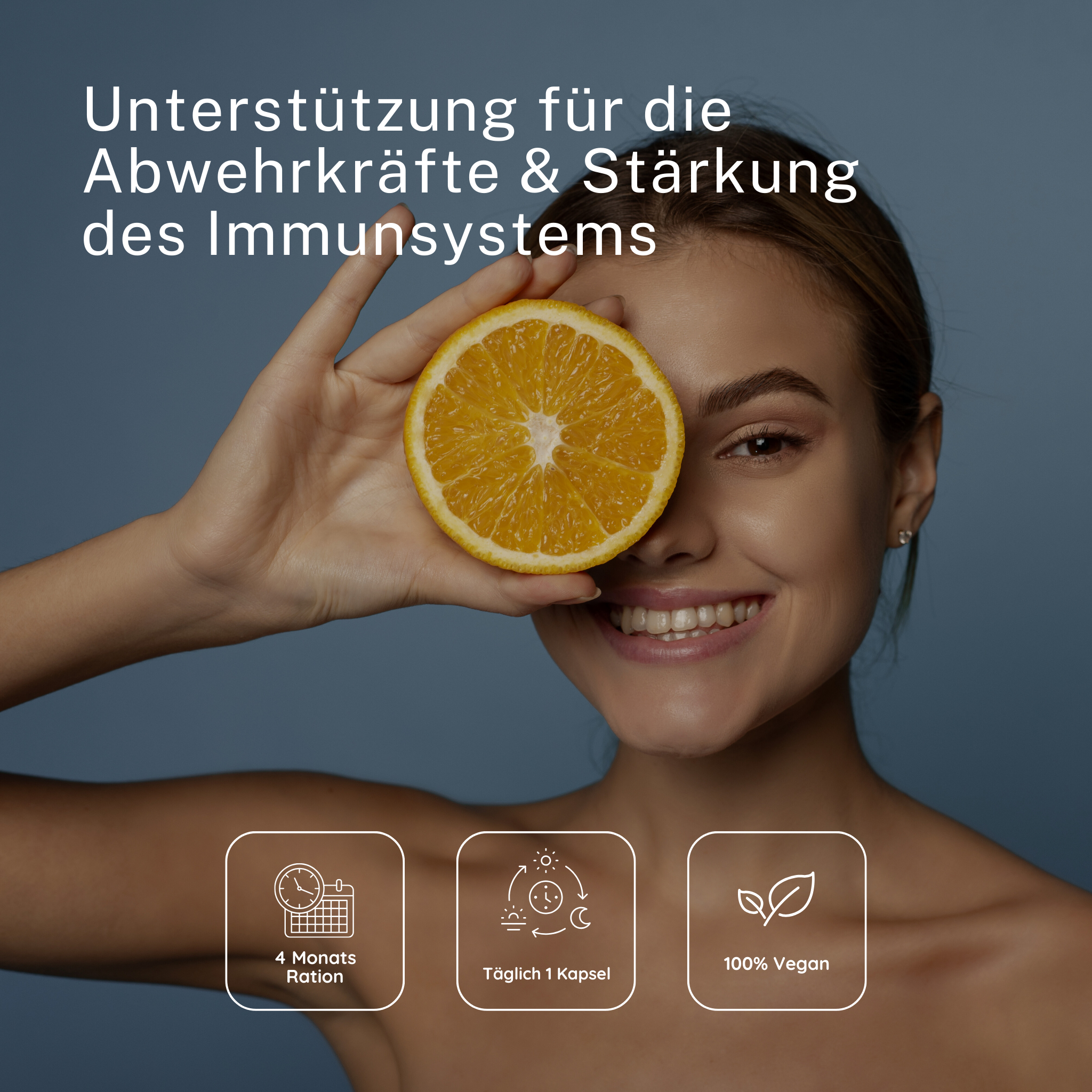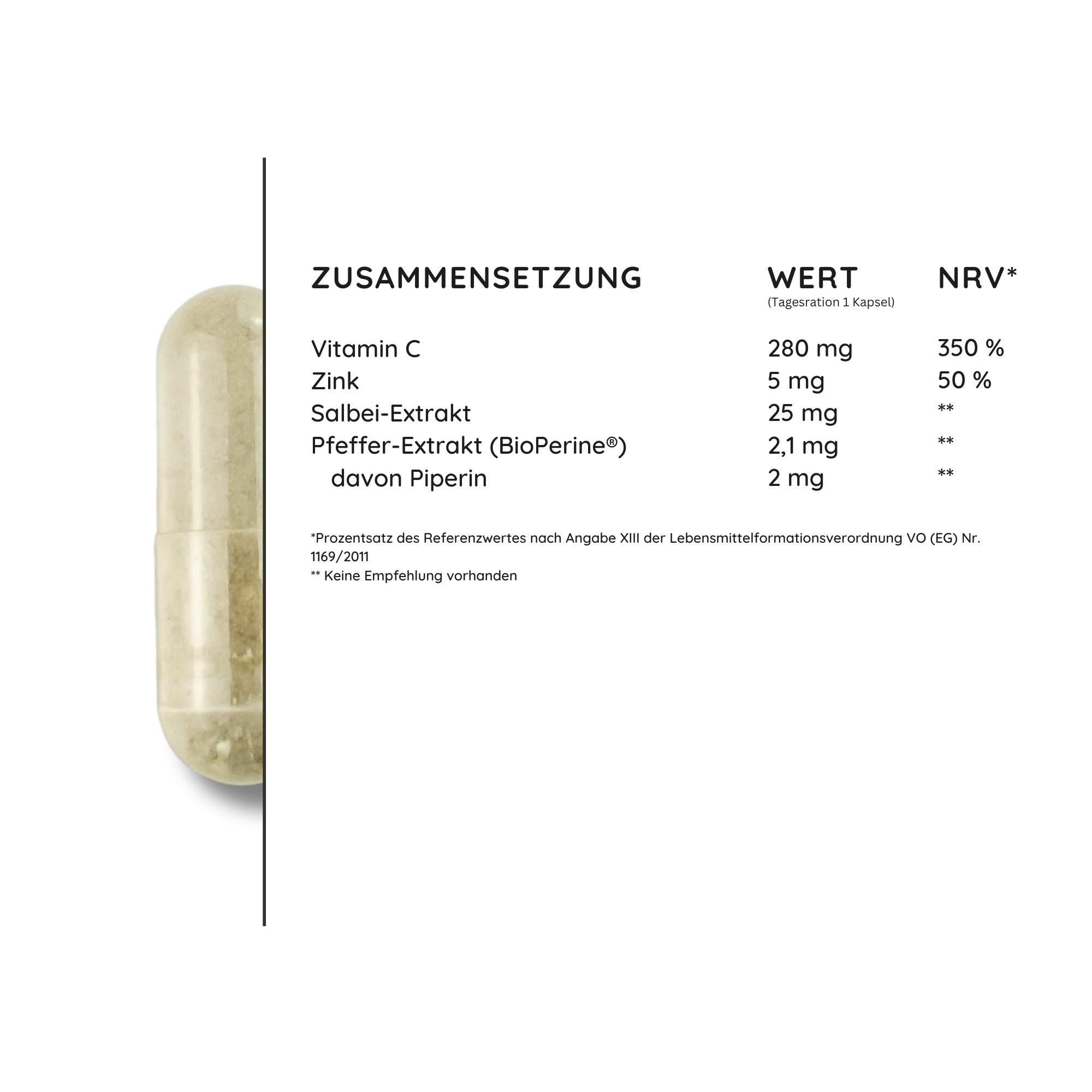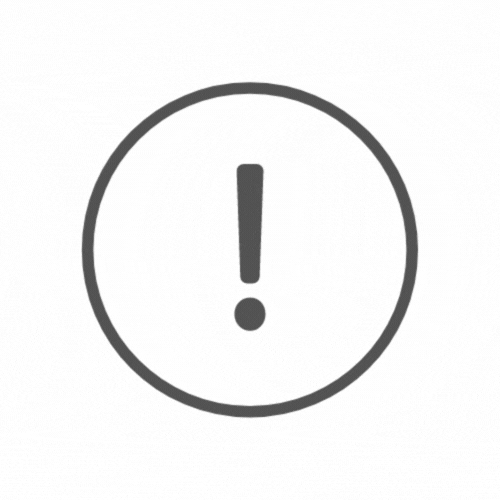 Effect
C+ZinkAgil affects the cells (protection against oxidative stress) and the immune system
Ingestion / Dosage
For 120 days - take 1 capsule with plenty of water
Contents
120 capsules for 120 days (4 months). €0.21 per capsule
Vitamins, minerals & plant extracts
100% vegan and highest quality. Our high quality Agil3+ formulations
Why is a healthy immune system so important and how can I strengthen it?
When your defenses are strengthened, your body is better able to fight off bacterial or viral attackers. A healthy immune system ensures that you get through the cold season in a powerful, strengthened and healthy way. You know that you don't actually move enough, eat unfavorably and are currently under a lot of stress? All of this weakens our immune system. However, it is particularly important in such phases that our immune system functions smoothly. When our immune system is heavily challenged, we should supply our cells with important nutrients. The body's own defenses can be strengthened particularly well with vitamin C and zinc. Higher concentrations of natural vitamin C can be found in fresh fruit and vegetables, among other things. Red peppers, broccoli, kale, kiwi and citrus fruits are particularly rich in vitamin C. But sea buckthorn, rose hips and acerola cherries are also known for their high vitamin C content. Good sources of zinc are oysters, liver, (beef) meat, oatmeal and cashew nuts.
Zinc
Contributes to normal acid-base metabolism. Like selenium, zinc also contributes to the normal functioning of the immune system and to protecting cells from oxidative stress.
Vitamin C
Vitamin C is involved in all vital functions of the body. Connective tissue, cartilage, bones and teeth need vitamin C for growth and regeneration. Vitamin C is also needed to strengthen the immune system.
Sage extract
Everyone knows the classic sage tea or has perhaps used sage in the kitchen for some other reason. Sage was voted Medicinal Plant of the Year in 1998 and 2003. In C+ZinkAgil we use an extract of sage and thus take advantage of the valuable properties of this plant.
Black Pepper Extract
Everyone has black pepper in their kitchen. However, the spicy-tasting spice can do more than just refine your dishes. C+ZinkAgil contains BioPerine® , a valuable black pepper extract that ensures high bioavailability. Because what is decisive is what the body can absorb and not just what is fed to it.
For whom is C+ZinkAgil a good choice?
Do you feel stressed and exhausted, but know that there is no way you can get sick right now? Do you already know that a cold is coming? Or do you just like to support your immune system as best as possible, especially in the cold season? Stress, heavy physical exertion and infections increase the need for vitamin C and zinc. If you want to support your immune system, then C+ZinkAgil is just right for you.
How exactly does C+ZinkAgil work?
Vitamin C and zinc support a normal function of the immune system. Vitamin C also contributes to normal collagen formation and thus supports the normal function of blood vessels, bones, cartilage, skin, gums and teeth. In addition, vitamin C contributes to normal energy metabolism and normal functioning of the nervous system. Vitamin C increases iron absorption and helps reduce tiredness and fatigue. Zinc contributes to normal DNA and protein synthesis. Zinc supports normal carbohydrate and fatty acid metabolism. Zinc also contributes to normal cognitive function, normal fertility and reproduction, and normal acid-base metabolism. Zinc helps maintain normal hair, nails and skin, as well as normal bone structure and normal vision. Vitamin C and zinc are two real all-round talents. But above all, they help you get fit and healthy through the wet and cold season!
How do I recognize a vitamin C deficiency?
A vitamin C deficiency manifests itself rather unspecifically. Signs of a deficiency can be, for example, tiredness, a drop in performance, irritability and increased susceptibility to infections. However, severe deficiencies hardly ever occur in industrialized countries. In the past, seafarers in particular suffered from scurvy. The disease caused by vitamin C deficiency is accompanied, among other things, by bleeding of the gums, wound healing disorders and joint inflammation.
What is vitamin C actually?
Vitamin C is a water-soluble vitamin found primarily in vegetables and fruits. The body cannot produce vitamin C itself, so the need must be met through food. Vitamin C is also known as ascorbic acid. Vitamin C is required for the formation of connective tissue, is important for the immune system and promotes the absorption of iron from food. In addition, it has an antioxidant effect. This property allows vitamin C to protect cells from damage
What should I watch out for while taking C+ZinkAgil?
When taking C+ZinkAgil there are no things you should do without. However, it is important that the specified consumption quantity should not be exceeded. AgilNature products also contain piperine. There are a few pointers to bear in mind: Notes on BioPerine
Should I change my diet at the same time?
Dietary supplements are not a substitute for a balanced and varied diet and a healthy lifestyle. In general, it is always advisable to ensure a balanced and varied diet.